Here is South Africa's leading competition website with over 1 400 000 SA users!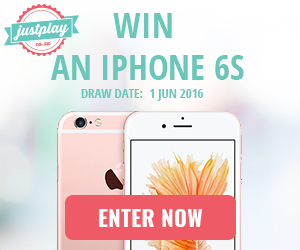 JustPlay is one of the biggest and most popular online competition websites in South Africa. Every week they have awesome prizes available to win.
You can join for free (there's no cost involved ever, not when you sign up or anytime later.) And all you do is answer a few questions about one of the competitions' sponsors.
Join for free by clicking the banner below…

Answer a few multiple choice questions for each questionnaire, some are only one question, others range from about 2 to 6 questions.
For example: at the moment there is a chance to win a Sony Digital Camera with 14.1 Mega Pixels and 25mm Wide Angle Lens valued at R1350.
To enter you would need to answer a quick questionnaire which, typically, would go something like this:
Do you own your own car? Yes / No
Do you have adequate insurance for it? I think so / Not sure / Still looking
Did you know you could save up to 30% with company 'x'? I knew that / I wasn't aware / I'm happy with my current setup
And that would be the end of your questionnaire. You are then automatically entered into the draw to win the Sony Camera.
You can choose which items you'd like to try win; you get shown the product, the monetary value of it, and the closing day of the draw.
You can enter many draws every day, usually around 20-30 of them, so you increase your chances of winning at least one prize. You can also enter more than once for a specific prize to stand a better chance of winning that particular one.