This is a great way to earn money online very easily, and it's lots of fun.
You can get paid to watch videos and completing other tasks.
If you are currently a member of our free online earning program you will already be familiar with how to earn money by completing legitimate surveys.
Superpay is probably the best one to be a part of, mainly because you only have to earn $1 (approx R14) before you can request a payout! So you basically get paid instantly! That is a massive incentive.
You can also earn money by simply watching video advertisements!
Another huge positive is that they have over 700 worldwide offers available, which means almost anyone in the world can join and earn money through them.
Three steps to making money:
2. Complete the various surveys, or watch videos etc
3. Get paid!
Once you have registered, you can start earning money by clicking on the "MAKE MONEY" menu item on the top menu navigation tabs.
Here you will see all the different types of free offers ( including Watching videos, CPC, Quick Submits, Trial offers etc ) which are available for members from your location.
All the offers are updated DAILY,  so if there are no offers for you today, there could be offers available for your tomorrow. So keep coming back and checking daily.
When you want to take part in a survey, look for ones that are available in your country. If you don't find any specific ones for your country choose the international ones, they are marked with INTL (see the pic below).
Your payments are paid via PayPal, all you have to do is setup a free PayPal account and then transfer the money from your PayPal account to your local bank account.  (If you are unfamiliar with PayPal I have published some more information on it at the bottom of this post.)
Once you've clicked on the MAKE MONEY button:
Select an offer category – such as "Daily Surveys"
Now, click on the banner or the text and the new offer page will open up in a new browser window.
You must follow all of the advertiser instructions, answer the survey questions and complete the offer requirements through to the end.  ($0.70 = approx R10, so if you do a couple of those you can make quite a bit of cash in a day).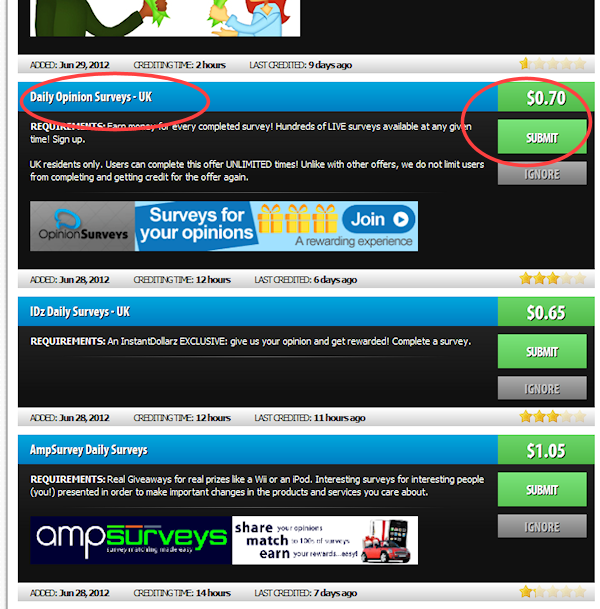 When you complete the survey (or video etc) you must click the "SUBMIT" button.
When you click the "SUBMIT" button this tells the system to credit your account with money.
Most offers credit within 1 hour. Some offers credit within 24hrs and some offers can take up to 30 days to credit. It all depends on the advertiser.
EARN CASH & EARN REWARDS
You can withdraw your money once your account reaches the minimum payout limit of $1.00 (R 14 ZAR)
For more great tips on making money quickly online, read this article.
****
PayPal information
Signing up for PayPal is free and super easy. There are two types of PayPal account types—Personal and Business—Choose "Personal"  and enter an email address, password, and a few more details.
You'll receive an email from PayPal asking you to activate your account. Then you're ready to shop, send money, and accept payments using PayPal.
To transfer your funds from PayPal to your account you will need to link a credit card to your PayPal account. If you don't have a credit card you can use a family member's, as long as the surname on the card is the same as the one you are using to set up the PayPal account.
PayPal is the safest way to pay on millions of sites.
No matter where you shop, they never share your credit card information. Plus, your eligible items are protected under the international Buyer Protection plan. So use it with peace of mind.
You can set up a free PayPal account here.