Are you looking for a hobby that's fun and gives you quick gratification? Look no more! DIY Furniture Restoration is an on-trend hobby. The current focus on going green, upcycling, and recycling gives you the opportunity to restore an old, discarded piece of furniture and turn it into a unique product.
Still not convinced that this is a "cool" hobby? Hop over to Pinterest (not now, but after you finish reading this article!) and enter the word "upcycled" into the search bar. You will see thousands of results.
I have been doing DIY furniture refinishing projects for years. You could say I was upcycling when upcycling wasn't cool. My obsession with DIY furniture projects began out of necessity. As a young twenty-something, I was given handed down furniture. Most of it was "serviceable" but really didn't register on my "cuteness scale."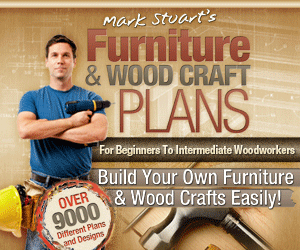 Here's an example. My friend's mother gave me an old wooden tea trolley from the 1950s. It was an ugly, dark walnut but in good condition. I stripped it, painted it gleaming white, and purchased a mirror to put down over the top. The stodgy old tea trolley became a trendy bar! I stored my spirits on the bottom and glassware on the top.
I made over that cart, on the small lawn of my apartment. I didn't know I needed tools then. I completed this challenge with a good set of hand tool, sandpaper, and paint. The satisfaction of spending a Saturday afternoon using my hands to transform a piece of furniture
Once I saw the positive response I got from that piece, it grew into a hobby that became slightly obsessive. From this success, I became more confident. I tackled re-painting an ugly drop leaf kitchen table and re-upholstering the kitchen chairs to match. I discovered I could cover holes in the back on a beat up bookcase with a wallpaper treatment. I continued to learn creative new techniques.
This trend continued. But when I graduated from a tiny apartment to my first home…with a shed…I took my hobby to the next level. I upgraded from my little hand tools to electric woodworking tools. It was a game changer. It made me feel a sense of accomplishment to know that I could take a piece of junk from the curb on trash day and make it look beautiful again!
I eventually became skillful enough to think outside the box with my DIY furniture restoration projects. A discarded console tv became a side table with a wine rack installed where the guts of the tv had been removed. An old church closed down and gave away all their chairs which I painted with exterior paint and transformed to benches.
I became something of an oddity. My friends and family shook their heads at the outlandish ideas that I came up with. But then, they were always fairly impressed when I revealed the finished project.
Through the years, my projects have become more skilled, but I still treasure most of those early pieces (except the tea cart, it sadly didn't survive a moving truck). I still find it so incredibly satisfying to log off my computer at the end of the day, go out to my shop, and work on a project. I would say that there are very few hobbies that give you such beautiful results in such a short amount of time.
My hobby of furniture restoration has become the new, trendy "thing". To me, it's been an escape for many years. There's no better way to clear your head than to focus on a furniture project.
And that time alone in my shop? As the old advertisement says…priceless!
AUTHOR BIO: Deborah Tayloe is professional content writer and contributor for hometiptop.com She loves DIY projects and gardening. Deborah resides in North Carolina with her husband and an energetic toy fox terrier.